Photo Gallery
Moriah at AuSable Valley swimming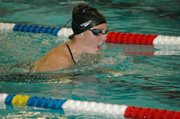 Pictures from the Sept. 29 swim meet between the Moriah Vikings and AuSable Valley Patriots.
AUSABLE — The AuSable Valley Patriots varsity girls swimming team picked up their first win of the season with a 118-50 advantage over the Moriah Vikings during the Patriots homecoming week Sept. 29.
"Everyone was swimming great today," Patriots head coach Andy Johnson said. "It was a good win during homecoming week and it was nice to see the girls having fun while competing."
The Patriots swept the relay events and won in all but two of the individual swims.
Emily McCormick scored a win in the 200 freestyle, with Emily Wood finishing second and Nia Perkins of Moriah finishing third.
Alexis Facteau scored the next win for the Patriots in the 200 medley, followed to the touch line by Moriah's Brooke Dever and the Patriot's Tonie Cross.
Sidney Murphy was the fastest for the Patriots in the sprint event, the 50 freestyle, while Raychel Agoney finished second and Perkins earning her second third place finish for Moriah.
The first Moriah victory came in the 100 butterfly, when Simmard hit the touch line less than one-half second ahead of AuSable Valley's Alexis Provost. Wood finished in third for the Patriots.
In the 100 freestyle, Leann Cook was the winner, followed by Moriah's Ashley Shores and AuSable's Teesha Coolidge.
In the distance event, the 500 freestyle, Sidney Murphy scored the win, while Moriah finished in the next two podium spots thanks to strong swims from Simard and Celena Madill.
Dever scored the second win for the Vikings in the 100 backstroke, followed by Annie Helfgott of AuSable and Moriah teammate Shores in third.
In the final individual event, the 100 breaststroke, The Patriots took the top two spots with Provost and Cross, while Wendy Virmala finished third.
Soccer
Meanwhile, outside of the pool, the Lady Patriots soccer team jumped out to a 3-0 lead heading into the second half.
(Continued on Next Page)
Prev Next
Vote on this Story by clicking on the Icon