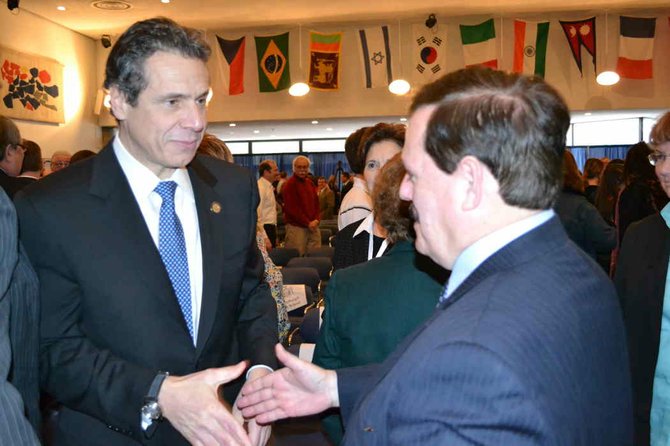 Plattsburgh — The North Country Chamber of Commerce is among the elite.
It is now ranked among the top 1 percent of America's chambers.
Recently, the United States Chamber of Commerce awarded the North Country Chamber of Commerce 5-Star Accreditation for its sound policies, effective organization and positive impact on the region.
"This is very gratifying for everyone at the Chamber," said Chamber President Garry Douglas. "Of the nearly 7,000 chambers across the U.S., only 77 are accredited at the top five-star level, placing us among the top 1 percent of America's chambers.
"We were accredited at the four-star level years ago, but our board and staff were determined to merit the five-star award in this, the Chamber's centennial year, and they have done it."
To achieve accreditation, chambers must meet national standards in their operations and programs, including an extensive review process that takes nearly nine months and must be repeated every five years. Five-Star status reflects excellence in all areas of a chamber's operation and work, including high-level activities and effectiveness in economic development, government affairs and member services. It also recognizes professional standards in staffing, finances and administration.
"I am so proud of our chamber and the outstanding efforts of our staff and volunteers," said Chamber Chairman Ron Graham. "We knew we were doing well across the board, but to have it affirmed by the U.S. Chamber and our national peers in such a major way is another matter.
Of nine areas of review, the Chamber earned perfect scores in five.
The North Country Chamber is the largest business and economic development organization in northern New York, linking more than 4,200 members across Clinton, Essex, Franklin, Hamilton and northern Warren counties.
The Chamber was lauded for government affairs activities in Washington and Albany, broadening and deepening international commerce between Quebec and the U.S., successfully marketing Plattsburgh International Airport, innovative programs for all sectors of the regional business community and more.
(Continued on Next Page)
Prev Next
Vote on this Story by clicking on the Icon