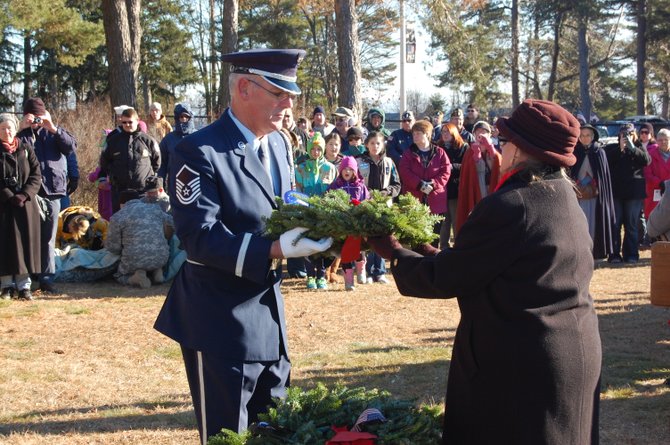 PLATTSBURGH — The cold bit their ears, fingers and cheeks as they picked up a wreath and walked slowly over to a gravestone.
They silently observed the name on the grave before bending over and leaning the wreath on the stone.
"Visit each gravestone and research them," said Kathy Baumgarten. "They were real Americans with families. They were more than just a statistic."
They gathered at the Old Post Cemetery in Plattsburgh as part of Wreaths Across America, a coordinated, nationwide event at military cemeteries across the United States.
The annual tradition began in 1992, when Morrill Worcester, owner of a Maine wreath company, sent 5,000 excess wreaths which were placed on graves by volunteers.
"The first burials here were in spring of 1867," said local historian Keith Herkalo, speaking at the event. "The wreaths we place here today symbolize the commitment to remember soldiers and sailors buried here."
The Old Post Cemetery is the final resting place for 136 unknown soldiers, 163 known and many family members. Thomas Kelly, Medal of Honor recipient is laid there. It is the location of the nation's first Tomb of the Unknown, where Battle of Plattsburgh soldiers and sailors are interred.
The ceremony began with a prayer and moment of silence to remember the fallen, prisoners of war and those who lost loved ones.
As the ceremony progressed, the U.S. Customs and Border Patrol Honor Guard stood still, holding the colors.
"Freedom has not come without a price," Baumgarten said. "We can live in freedom and without fear. We are free to vote, and we have the right to succeed and fail at whatever endeavor we choose."
"We thank those who kept us free and will not forget you," she said.
Peg Bergeron reminded everyone that the men and women are part of the best trained and equipped force in the world.
(Continued on Next Page)
Prev Next
Vote on this Story by clicking on the Icon