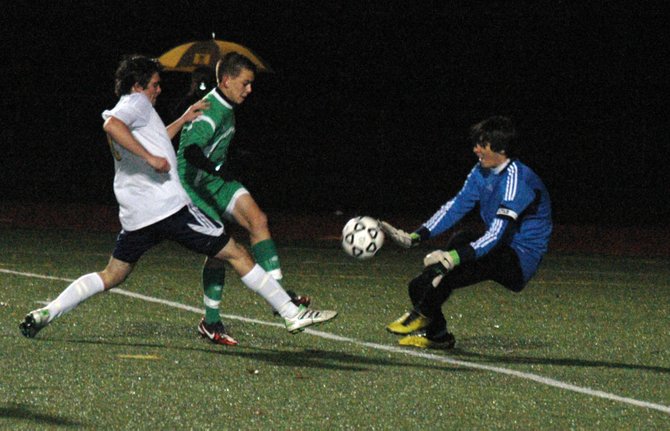 Plattsburgh — The time has come for Lake Placid boys varsity soccer.
Haile Thompson scored goals in the 35th and 68th minutes as the Blue Bombers earned their first-ever Section VII/Class C boys soccer championship, beating Seton Catholic 2-0 on Nov. 1.
Photo Gallery
Class C boys soccer finals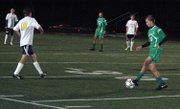 Pictures from the Nov, 1 Section VII/Class C boys soccer finals between the Seton Catholic Knights and Lake Placid Blue Bombers.
"It's unexplainable. It feels great," Thompson said. "I am never going to forget this, that's for sure."
"My job at the beginning of the season was to win two games," head coach Stuart Hemsley said. "The two games we had to win were the semifinals and finals of sectionals to put a banner on the wall that they have never done in the history of the school."
While the Bombers controlled possession throughout most of the first half, it was a counter attack out of the Knights end of the field that opened up the scoring. Kegan Barney put a ball in toward the Seton net, and Thompson was able to collect the rebound and score the opening goal of the game.
"We have been moving the ball pretty well," Thompson said. "We have had a solid defense that clears the ball out and we have been able to capitalize on solid chances."
Hemsley said that he joked with his team about the nature of the goal.
"I asked them, how do you like that scrappy goal," Hemsley said. "A goal is a goal. It does not go down Lake Placid one scrappy goal one good one; it goes down as Lake Placid 2-0."
Thompson scored again in the 68th minute, connecting with his head on a corner kick by Andrew Meister.
The Bombers ended with a 20-9 advantage in shots, with Knights goalie Keagan Briggs making 10 saves and Chris Korzdiel recording four saves to earn the clean sheet. The Bombers also held a 5-2 advantage in corner kicks.
(Continued on Next Page)
Prev Next
Vote on this Story by clicking on the Icon