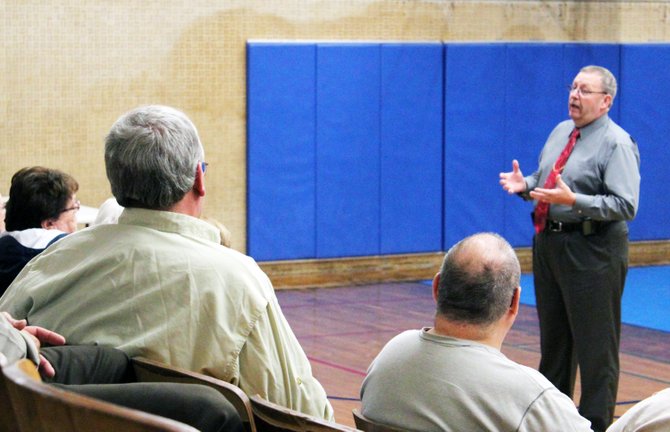 Au Sable Forks — About 30 people attended a meeting Oct. 25 in the Town of Jay Community Center to upgrade the Au Sable Forks Ambulance Service into a 24-hour service.
The meeting was hosted by Town of Jay Supervisor Randy Douglas and Bill Minogue, Captain of the Au Sable Forks Ambulance Service.
Minogue cited a decline in volunteerism and a need to respond faster to emergencies as the primary reasons for enacting the 24-hour service.
"It's reached a point where volunteerism is declining," Minogue said. "Now, a husband and wife work three or four jobs. People just don't have time."
To help reduce response times, Minogue would like to see two critical care technicians hired to help fill a gap from 6 p.m. until 6 a.m.

Minogue said about 45 percent of the calls his office receives are during that time.
"This will cut response time down," Minogue said. "We will have people able to respond when the pager goes off."
Critical care technicians can perform advanced life support while intermediate technicians cannot. Presently, there is one volunteer critical care technician and three intermediate care technicians available.
CVPH has to call when the critical care technician is unavailable, which both Minogue and Douglas said is a problem.
"Right now, even though CVPH has a certificate of need for all of Clinton, Franklin and Essex counties, without the state changing the rules and regulations, CVPH is not authorized to come to Au Sable Forks, the Town of Jay or the Town of Black Brook," Douglas said. "It would take the Department of Health to change that."
In order for CVPH to be of service to someone in those areas, the ambulance must meet them near a highway exit.
The cost for upgrading Au Sable's service would be shared by taxpayers in both Jay and Black Brook, with Jay residents assuming about 68 percent of the cost and Black Brook about 32 percent.
(Continued on Next Page)
Prev Next
Vote on this Story by clicking on the Icon