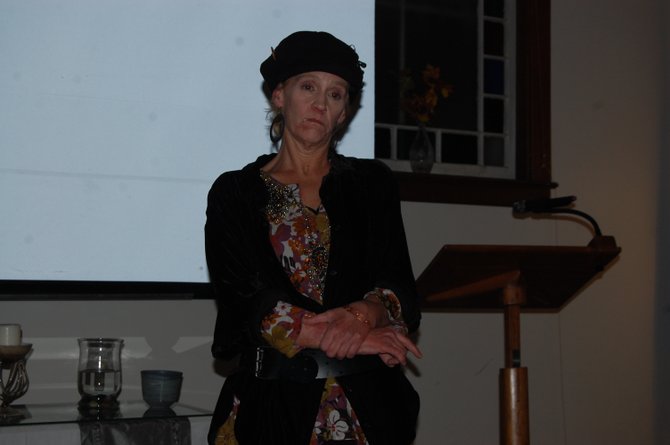 PLATTSBURGH — Throughout time, people have been afraid of what they do not understand, of what they view as different.
The stigma and misconceptions about mental illness are vast, but Alison Doh-Carter hopes to help change that.
She wants to help people understand that mental illness is a physical disease and enlist them in the fight to battle misunderstandings about it.
"Mental illness doesn't have the advocates, money and politicians fighting for it like other minority groups," she said, speaking in Plattsburgh as part of a program called "In Our Own Voice."
The program is sponsored by the National Alliance on Mental Illness, and the presentation by Doh-Carter included conversation and short video segments portraying people with mental illness discussing such topics as "Dark Days" and "Coping Skills."
After each segment, Doh-Carter shared her own experience with mental illness.
"People are afraid of what they don't understand," she said. "I am here to represent a large community that is often silent and is more apt to hide from being beat down so much."
Doh-Carter herself, for the most part, is a recluse these days.
She was a full time teacher when suddenly she could not stay in the classroom and would run outside. She eventually lost her job, husband and step-children.
"People start thinking and feeling things and they cover it up because society doesn't want to accept it, and that only makes it worse," Doh-Carter said. "You start to feel nonhuman, like an alien. Sometimes people run around with these feelings for years before anything is done, and sometimes they kill themselves first."
During the video, those diagnosed with a mental illness spoke of hiding in a parking lot until a spouse left the home so the individual could get back in bed and sleep the day away, being high as a kite in the morning and suicidal at night or having to sit through an exorcism by the family priest because the family found out about the voices in the individual's head. Individuals on the video were diagnosed with bipolar disorder, schizophrenia, borderline personality disorder, post traumatic stress disorder, clinical depression and more.
(Continued on Next Page)
Prev Next
Vote on this Story by clicking on the Icon