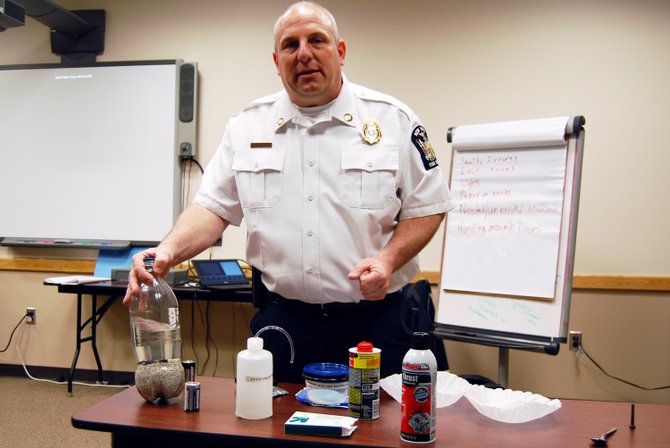 Elizabethtown — As the number of arrests for meth possession, usage, and manufacturing continue to rise in communities across the North Country, the emergency personnel trained to keep area residents safe must prepare themselves to be ready to respond should a meth related emergency arise.
"When we are walking onto one of these scenes we're typically not getting called to a (meth) lab, we're called for a structure fire, an unknown odor coming from a house or an EMS call for a patient down," said Division of Homeland Security and Emergency Services Fire Protection Specialist Victor Graves. "We need to take a little time when we get there to see what's actually going on and be on the look out for precursors that indicate we have a little more to be worried about."
Emergency service, hazmat, police and fire department members have to receive special training to safely do their jobs and special trainers such as Graves are bringing more information to them.
 About 21 members of fire departments across Essex County joined Graves for a class on recognizing clandestine drug lab operations at the Emergency Services Building in Lewis April 9.
Graves said the eastern part of the state has been fortunate to not have so many cases of these clandestine or "clan," labs, but in recent years there has been a dramatic rise. In New York, 97 percent of the labs found were manufacturing methamphetamine. Other labs found were producing LSD, MDMA, steroids, illicit mushrooms, methcanthinone and DMT.
The production of meth is accomplished with a volatile mixture of household items that when combined can quickly consume a house or car in flames.
"There have been several occasions where law enforcement has tried to go in and close down one of these labs and ended up being at a pretty significant structure fire," said Graves.
(Continued on Next Page)
Prev Next
Vote on this Story by clicking on the Icon