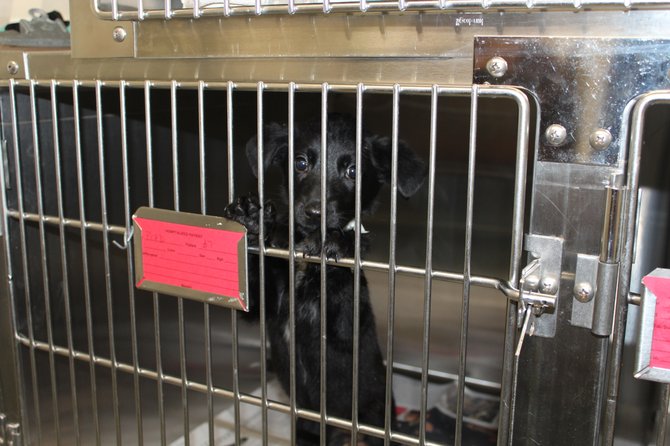 PLATTSBURGH—While an impromptu protest was gaining strength outside her Plattsburgh Plaza pet shop, Northern Puppies' owner Tammy Staley wanted her side of the story to be heard.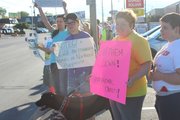 Staley was arrested for 20 counts of cruelty to animals on July 10, after a spot inspection by the New York State Department of Agriculture and Markets discovered one dead kitten, and several in what they determined were unsuitable conditions. The kittens, along with two adult chow dogs, were seized, leaving Staley with 30 dogs. She was barred by the Department of Agriculture from selling, giving away or euthanizing the dogs. 
Staley doesn't believe in crating her animals, even at night. Instead she had pens built at her shop, where numerous puppies and kittens were housed in the pens at any given time, puppies separate from kittens. 
"Have you ever had a litter of puppies? When you wake up in the morning, what do you wake up to?" Staley asked.
Staley said that when she and her employees get to the store each morning, typically the first thing they do is to clean up any feces the puppies and kittens had made during the night, which was sometimes all over the pens, and fill up water and food bowls. 
"Every morning that's what we come in to - a mess," she said.
That's what Staley claims one of her employees came in to find on the morning of July 10. When a customer followed her in that morning to purchase a Rottweiler, she didn't have a chance to clean the pens. Then inspectors from the Department of Agriculture showed up for an unannounced inspection, and found the animals in this messy condition. 
Her problems, she says, were compounded by the discovery of a dead kitten that morning. 
"A month ago we took in five litters of sick kittens. We had five litters in two days," Staley said. "We called our vet, we had her come in. She did some tests, it came back that some of them had coccidia, some had ringworm, so we were treating them for that."
(Continued on Next Page)
Prev Next
Vote on this Story by clicking on the Icon