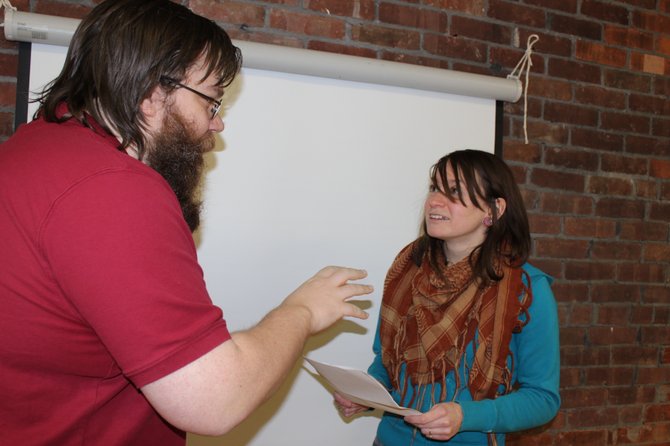 PLATTSBURGH — A local filmmaker is seeking a few good actors and actresses to be a part of his newest independent film, "A Promise Made of Wax."
Jason Torrance, who wrote the script and will also direct and star in the film, said there are still three lead and several supporting roles open, and that he needs both men and women in their 20s and 30s to fill them.
He will be holding an open audition Saturday, Jan. 5 at ROTA Gallery in Plattsburgh from 1-4 p.m., and filming will take place throughout January.
The movie is about three couples—one who just had a baby and is now breaking up, another who just met and are dealing with their own personal demons, and an emotionally toxic relationship between two cousins—whose lives are intertwined.
The plot sounds like a soap opera drama, but Torrance explained that, at its core, it is really an ensemble piece about betrayal.
"It's a concerted series of sucker punches," Torrance said."Wax feels firm, but you apply a little pressure and it crumbles."
"A Promise Made of Wax" will be Torrance's third film, behind "Melodrama" and "Easter Sunday Can Never Be Lent," both of which he plans on submitting to independent film festivals in the near future.
Torrance, who was homeschooled, got into filmmaking because he loved watching movies as a child.
Sometimes, he said, he would see eight movies in one day.
Once he discovered his love for motion pictures, Torrance started watching movies from every genre that had received good reviews, and then systematically began seeking out directors whose work he enjoyed.
"I started realizing that you have to go with your own tastes," Torrance said. "A good rating doesn't necessarily mean a good movie."
Now, years later, Stanley Kubrick and David Lynch have emerged as two of his favorite directors.
(Continued on Next Page)
Prev Next
Vote on this Story by clicking on the Icon