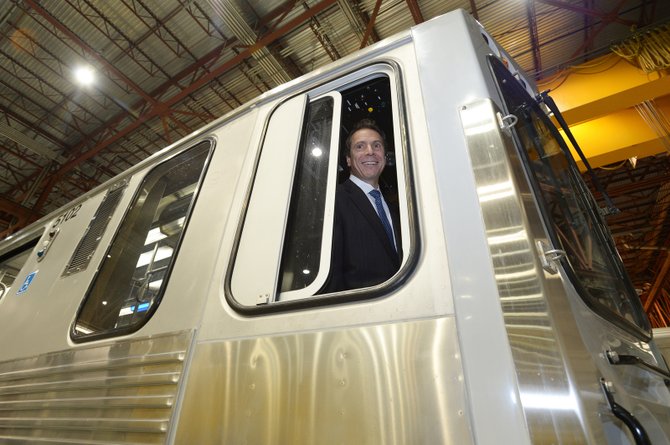 ALBANY — Governor Andrew M. Cuomo Tuesday, Jan. 22 unveiled the proposed 2013-14 Executive Budget and Management Plan that he said builds on two years of balanced, fiscally responsible budgeting and invests in economic development, education reform, rebuilding after Superstorm Sandy, provides support to local governments and school districts, and includes no new taxes or fees.
"By making difficult decisions over the past two years we have brought stability, predictability, and common sense to the state's budget process," Governor Cuomo said. "For the third consecutive year we are closing the deficit with no new taxes or fees and putting forward a budget that holds spending growth under two percent. Two consecutive fiscally responsible budgets have drastically reduced the deficit we face in this fiscal year and those we will face in years to come. As a result, we are able to make critical investments to build a world-class education system, support job creating projects in all corners of the state, provide assistance to local governments, and rebuild communities that were hit hard by Superstorm Sandy."
Highlights of the Executive Budget:
· Eliminates $1.3 billion budget gap with no new taxes or fees. The expected gap for 2013-14 was projected to be $17.4 billion prior to the last two responsible budgets.
· Holds spending increases below 2 percent for third consecutive year.
· Increases education aid by $889 million, or 4.4 percent, driving an average increase of more than $300/student per year.
· Targets economic development spending to accelerate the commercialization of new technology, launches a third round of the Regional Economic Development Councils, and markets the state's tourism assets to bolster economic growth, especially Upstate.
· Reforms the Workers' Compensation system to save employers, local governments, and school districts more than $900 million.
· Includes nearly $974 million in savings from government redesign and cost control efforts
(Continued on Next Page)
Prev Next
Vote on this Story by clicking on the Icon