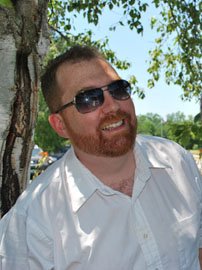 Plattsburgh — The Clinton County Veterans' Service Agency knows who to call when they need a hand: Wild Bill Sargent and WOKO 98.9-FM.
On Wednesday, Sept. 11, Sargent will be climbing the stairs to the top of the 135-foot Macdonough Monument in downtown Plattsburgh for an on-air fundraiser, along with his Morning Roundup radio show, to raise money for a new van for the Disabled American Veterans of Clinton and Essex Counties. He's not coming down until his country music listeners donate enough money to buy the van.
For North Country veterans, the nearest Veterans Administration hospital is in Albany. The Veterans' Service Agency provides transportation for vets, but their van is aging. The federal government dictates when these vans have to be taken out of service, but provides no funds to replace them.
"We average 12 trips a month, and we're transporting in the neighborhood of between 80 and 90 veterans per month down to Albany," said Steve Bowman, director of the Clinton County Veterans' Service Agency. "We put a lot of miles on vehicles quickly."
Enter Wild Bill.
Sargent first heard of the plight of the Veterans' Service Agency in 2005 when they were holding a covered dish "dime a dip" fundraiser to replace the van they had at the time.
"I thought, 'How the heck are they going to get a van a dime at a time?'" Sargent said. "I knew we could help them out and do this."
So he locked himself inside the Macdonough Monument , and they made their goal by 2 p.m. Sargent again made the climb in 2009 to replace that van when it was taken out of service.
"Originally I was skeptical about it. Not the concept, but just 'OK, can we raise this amount of money in a reasonable time,'" said WOKO Operations Manager Steve Pelkey. "What happens if you don't raise the money? Now it's nighttime, it's cold and you're up in the Macdonough Monument."
(Continued on Next Page)
Prev Next
Vote on this Story by clicking on the Icon