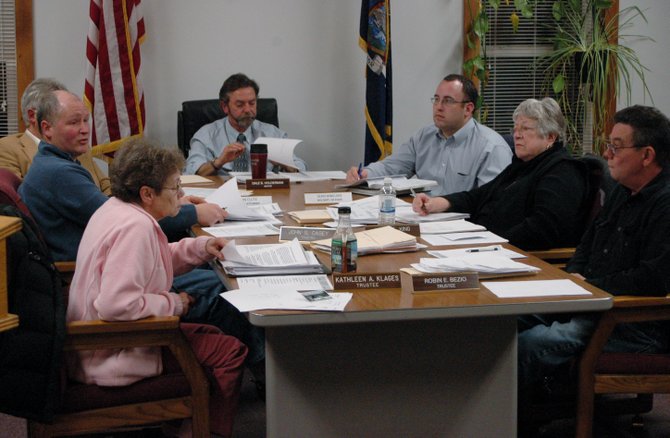 From front left, Keeseville Village Trustee Kathleen Klages, trustee John Casey, attorney John Clute, Mayor Dale Holderman, New York State Department of State representative Sean Maguire, Trustee Mary King and Trustee Robin Bezio.
Stories this photo appears in:

Voters will go to the polls from noon to 9 p.m. Oct. 22 at the Village Offices (58 Liberty St.) to determine the fate of the Keeseville Dissolution plan, which was accepted by the village board of trustees in July. A "yes" vote will accept the plan and lead to the dissolution of the incorporated municipality on Dec. 31, 2014. A "no" vote will defeat the plan, voiding the previous vote in February that favored dissolution by a tally of 268-176.

One more vote will determine if the village of Keeseville will cease to be an incorporated entity after Dec. 31 of next year.

The board voted to accept the dissolution plan presented by the Keeseville Dissolution Committee during its July 9 monthly board meeting, putting in place the process of eliminating the municipal government located in the towns of Chesterfield and Ausable Dec. 31, 2014.

Mayor Dale Holderman and New York Department of State representative Sean Maguire spoke to members of the Board of Trustees and residents Feb. 12 about the next steps in the village dissolution process.