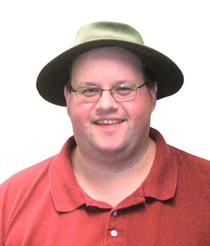 Andy Flynn
Assistant Managing Editor
518-873-6368 Ext: 213
Email: andy@denpubs.com
Andy Flynn joined Denton Publications as Assistant Managing Editor in January 2011.
From 2001 to 2009, Flynn was employed as the Senior Public Information Specialist at the Adirondack Park Agency Visitor Interpretive Center (VIC) in Paul Smiths. He operates Hungry Bear Publishing and was self-employed in 2009 and 2010.
Flynn is an award-winning journalist, garnering merits of excellence from the National Newspaper Association, New York Newspaper Publishers Association and the New York Press Association (NYPA). He was a writer, city editor and managing editor for the Adirondack Daily Enterprise in Saranac Lake and the Lake Placid News (1994-2001), a correspondent for the Plattsburgh Press-Republican (1994), an announcer for WNBZ 1240-AM in Saranac Lake (1994), and a general assignment news reporter and radio documentary producer for North Country Public Radio in Canton (1992-1994). He is a graduate of the SUNY College at Fredonia (1991) and the Tupper Lake High School (1987).
Flynn lives with his wife, Dawn, in Saranac Lake.
Recent Stories

Event tentatively set for July
With the Adirondack whitewater rafting season gaining momentum and the 56th Annual Hudson River Whitewater Derby on tap for May 4-5, New York Gov. Andrew Cuomo may soon be making a long-awaited announcement about the Adirondack Challenge. And it looks as though the governor is considering the town of Indian Lake as the headquarters for the Challenge, according to a tentative schedule acquired by the News Enterprise.
Town of Newcomb officials are cautiously optimistic that their attempt to shame New York state into fixing Route 28N earlier than planned has succeeded in getting the Department of Transportation's attention.

The 9th Annual Upper Hudson Bluegrass Festival returns to North Creek Aug. 17-19 with more than a dozen acts providing more than 30 hours of music, including several national stars and regional favorites.

Big 'reveal' set for Aug. 12
Who's in North Creek's 2013 naked calendar?

Raised money, awareness for Leader Dogs for the Blind
When Mark Mansell gets back to school in the fall, he can easily answer the question of "What did you do this summer?" with four simple words: I rode across America.

DEC issues high fire danger warning
Two wildfires started burning near the train tracks between Lake Placid and Saranac Lake Thursday, July 12 several hours after state Department of Environmental Conservation (DEC) officials issued a high fire danger warning.

Matt Doheny of Watertown won the Republican primary Tuesday, June 26 against challenger Kellie Greene of Sackets Harbor and will face incumbent Rep. Bill Owens (D-Plattsburgh) in the fall election for the newly established 21st Congressional District.

Congressman Bill Owens was the guest speaker at Newcomb Central's June 23 commencement ceremony honoring its six graduates.

Town hears proposal to build anaerobic digester
North Elba Town Board members are considering a plan to build an anaerobic digester at the transfer station that would turn food scraps and other matter into fertilizer that could help them grow produce.
Appeal denied but exemption no problem
The federal Surface Transportation Board Monday, May 14 announced that it has ruled on the Saratoga-North Creek Railway's case to operate the Tahawus Line from North Creek to the former mine in the town of Newcomb.