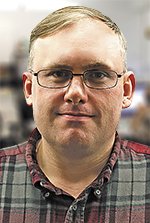 Keith Lobdell
South Bureau Editor
518-585-9173 Ext: 111
Keith Lobdell returned to the Valley News in December of 2010 after spending four years as a reporter with the Whitehall Times. Lobdell previously worked at Denton Publications from 2000-2004. He lives in Westport with his wife and three children.
Recent Stories
Peru 59, Franklin Academy 6
It took the Peru Indians a total time of 1:48 seconds with the ball to make their statement against Franklin Academy Nov. 8.
Ticonderoga girls varsity head coach Kathy Tubbs said she was looking for a go-to offensive threat throughout the 2014 season.

NAC girls, LPCS boys atop C tables
The Section VII playoffs are set to begin in classes B, C and D with some familiar faces at the top of the tables.

While Ticonderoga used their usual running attack to roll past Plattsburgh High Oct. 17, they exploded onto the scoreboard very early en route to a 43-6 victory.

The Beekmantown back ran for 265 yards on 25 carries, scoring four times on the ground and adding one more on the receiving end of an Alex Archer 26-yard pass in a 33-20 win Oct. 10.

This time, it was the Chiefs of Saranac scoring a 43-7 win over the AuSable Valley Patriots Oct. 3.
Neither Saranac Lake or Ticonderoga were able to manage more than 155 yards of total offense, but the Red Storm was the beneficiary of the longest play of the game, a 39-yard strike from Tristin Fitzgerald to Ty Marmion in the third quarter to give the team a 7-0 win over the Sentinels. Sept. 26.

A wet field and confident Ticonderoga squad held the Peru Indians at bay for three quarters of their Sept. 13 football game.

Friday's game against the Ticonderoga Sentinels was an eye opener for the Saranac Chiefs.

Stefanik, who has worked in her family's plywood business in Broadalbin, said their company has supplied materials for the Dick Sherman-led company for many years.